Future Dates & Training Opportunities
---
System Spotlight
By Jody Hattrup
---
Greeley County Library
Greeley County had a busy week. Kelly and Sara gave us a huge amount of help with Very Merry Verso on Monday & Tuesday. Then Monday afternoon we put together our booth for the Greeley County Fair. In the judging, on Wednesday we received a purple & Reserve Champion in our division! We included in the booth our updated brochure with a QR code on the front which takes you to our website. Greeley County used their green screen with kids during the county fair. See the pictures below to see their creativity.
Ashland Public Library
Fowler Public Library
---
Consulting
By Richard Brookman
---
Aug 19 Regular System Board Meeting
The August 19 System Board Meeting is set for August 19, start time at 10:00 am. This is going to be an online meeting only. The RNR Hearing/Budget Special Meeting is being held in September. Here is the Registration Link for August 19 and the Zoom Link to attend the meeting.
ARPA Label Order
Alice Smith, LSTA & State Data Coordinator of the State Library of Kansas, has asked for all recipients of ARPA funds to place orders for the ARPA labels. This label is to be affixed on anything that can accommodate a label. Their is no charge to these labels and you only need to order labels if you haven't already placed labels on items purchased with ARPA funds.
The deadline for the order is Friday, August 12. Follow this link to select and order the label type needed.

Project Outcome 101 Webinar
Wednesday, August 10, the Public Library Association, is hosting a free webinar "Project Outcome 101: Measuring the True Impact of Libraries" at 1:00 pm Central Time. The webinar will provide librarians on how Project Outcome can help libraries measure meaningful learning outcomes, how to use the Project Outcome toolkit for administering surveys to visualizing results, understanding how other libraries have used outcome data, and how to utilize data to improve library services and better advocate for the library.
The presenters for the webinar are:
Sara Goek – Project Manager, Data & Research, Public Library Association;
Katina Jones – Program Manager, Evaluation & Assessment, Public Library Association; and
Gena Parsons-Diamond – Program Officer, Association College & Research Libraries.
If you are interested in attending you can register through this link.
Webjunction Webinar Over Mental Health & Suicide Prevention for Veterans
On Friday August 12, at 1:00 pm Central Time Webjunction is hosting a Webinar for librarians that wish to give back and help Veterans in our communities. Suicide is an aspect of our world no one likes to talk about, but it is present in all communities. If we can assist in any way this webinar will give librarians information on how to do so with our Veterans.
The webinar is entitled "Mental Health and Suicide Prevention for Veterans, Service Members, Families and Communities". You can register at this link.
"Libraries are well positioned to provide information and referral services to connect Veterans and members of military communities with Veterans Health Administration programs." The presenters will "provide an introduction to military culture and share how libraries can help raise awareness of the resources available to Veterans, their families, and other members of military communities."
Presenters are:
Lillie Mells – Education & Training Program Coordinator, Office of Mental Health Suicide Prevention, U.S. Department of Veterans Affairs;
Cassis Dubicki – Health System Specialist, Education & Training Suicide Prevention Program, Office of Mental Health & Suicide Prevention, U.S. Department of Veterans Affairs; and
Shurhonda Love – Community Relations Specialist, Partnerships & Community Relations, Office of Mental Health Suicide Prevention, U.S. Department of Veterans Affairs.
---
Cataloging, Collection Development, and ILL
By Kelly Easton
---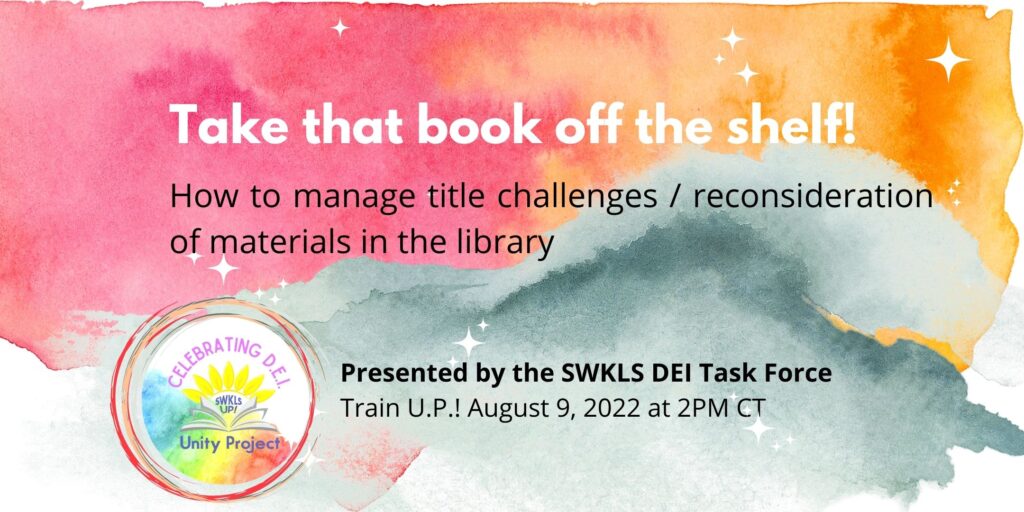 New titles SWKLS might enjoy…


Earlier this week, we received an update from CREW in Dodge City: The organization will no longer accept books for recycling. They are overwhelmed, and we do not know when the situation will be resolved. For now, all we can recommend for your weeded books is to discretely dispose of them, or research local recycling options. Thank you for your patience and understanding.
CatExpress usage report for July 2022 = The first report for the 2023 fiscal year / Link
---
Technology
By Jody Hattrup
---