Future Dates & Training Opportunities
---
All times are in Central Standard Time (CST).
October 13, 2021 – New Leaf pick-up locations = DCPL, Haskell Township, and Ness City
October 15, 2021, 10 am – Full Board Meeting (Online)/Registration Link/ Zoom Link
October 20, 2021 – New Leaf pick-up locations = Ashland, Plains, and Protection
October 20-23, 2021 Association for Rural & Small Libraries / Registration Link
October 27-29, 2021 – Kansas Library Association Conference (Wichita) / Information Page / Registration Page Link / Hyatt Hotel Reservation Link
November 1, 2021 – Western Kansas Community Foundation grant applications are due / Video recording and notes on the Wiki from Aug. 3's Train U.P.! Link
November 2, 2021, 2 PM – Train U.P.! Coding for Kids/Registration Link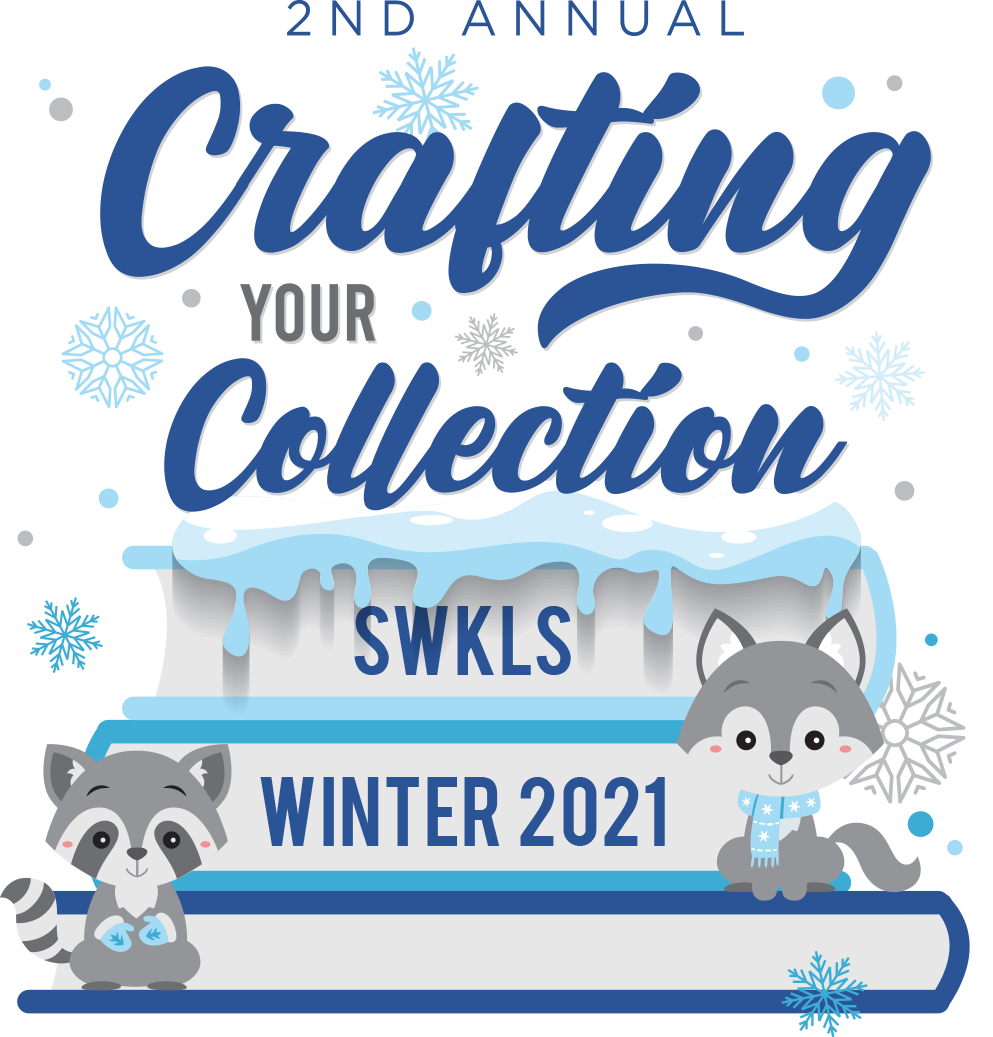 December 10, 2021 – 2nd Annual Crafting Your Collection 2021 at the G.C. Zoo
---
Consulting
---
October 15 Full Board Meeting
The next Full Board meeting is this coming October 15, starting at 10:00 am. This will be an online meeting and you can link in with this Zoom Link.
---
Cataloging, Collection Development, and ILL
---
New Leaf is coming! Bring your weeded items to:
Call the directors with a box count prior to drop off, please!

October 13th

Dodge City
Haskell Township (in Sublette)
Ness City

October 20th
Where's the Beef?
Serving Our Spanish-Speaking Patrons
As I mentioned during the Tech Day+ panel "Diverse Interactions: Just Ask!", I promised to release a document I created to help us serve our Spanish-speaking patrons. Extra special thanks to Vicky, Cesilia, Maribel, and Nidia for providing much of the information contained within. Be sure to visit all of the links underlined in blue in the .pdf. / Link
CatExpress Report: July – September 2021
View your library's most recent usage report / Link
Who's Your Favorite?
Next week, Kelly will purchase more E-content for the Cloud Library. Submit your patrons' favorite authors via email by EOD on 10/13, please. Thank you!
Update:

Very Merry VERSO is proceeding successfully with Haskell Township and Ransom. Meadowlark has just begun, and Fowler will begin next month. "VMV" is a new catalog clean-up project to ensure catalog accuracy. SWiftnet is clogged with antiquated data from 2007 and is under-performing. We hope to update local customizations. VMV is a cure for a healthier SWiftnet! For more details, contact Kelly.
Special Pricing on Thorndike/Gale L.P.
Cengage/Thorndike/Gale Large Print has released the latest subscription prices for adults, YA, and middle readers. / Link
Our regional representative: Lisa Wilson — lisa.wilson@cengage.com
---
Technology
---
Unlimited Comics, Graphic Novels, and Manga
Do you have a patron that likes comics, graphic novels, and mange? Exciting news the State Library of Kansas is now providing a new platform, LibraryPass and/or ComicPlus. All you have to do is create an account and log in to LibraryPass. Click here for the State Library of Kansas webinar. If you would like to explore LibraryPass through Niche Academy click here for the link.

Quickbooks Users
Quickbooks users might receive an email from Intuit. Quickbooks will be moving to a yearly subscription starting in 2022. However, if you have the 2021 Quickbooks Pro version for the Desktop you will have support until 2024. This will allow you to hold off on purchasing the yearly subscription for a few years.
SWKLS can purchase 2021 Quickbooks Pro version Desktop on your behalf through Techsoup. They currently offer Quickbooks 2021 single-user licenses for $78. Please click the following link for more information: TechSoup Quickbook 2021 Single User Licenses. If you would like to purchase a copy or have any questions please contact Steve Andrews and the SWKLS office.
Cybersecurity Awareness Month 2021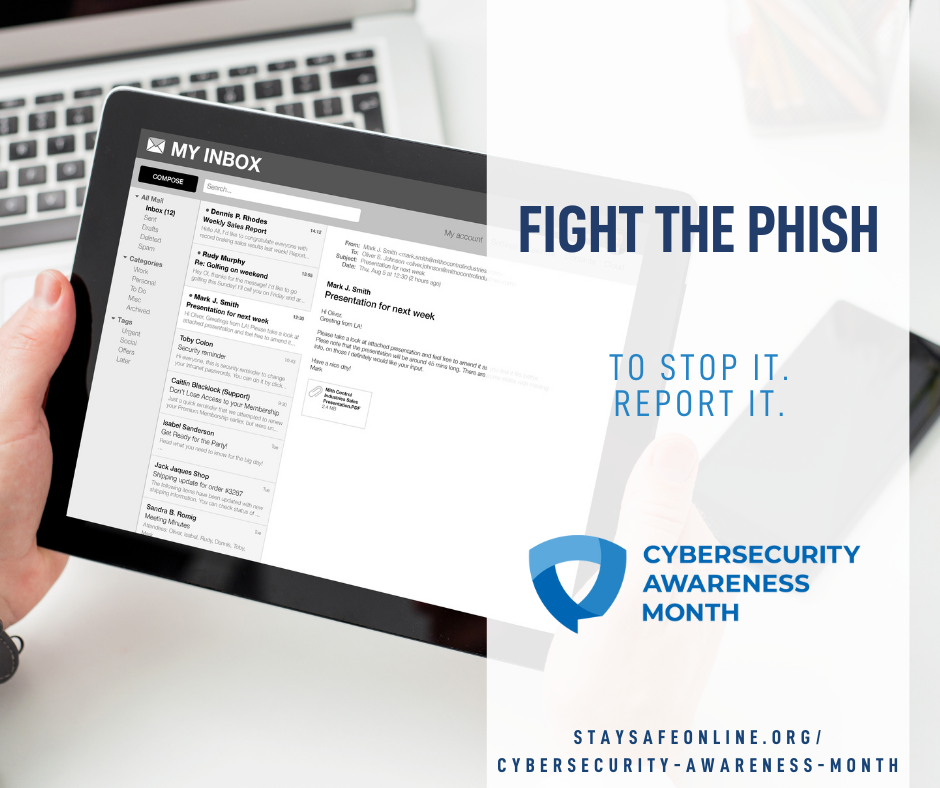 Week of October 11 (Week 2): Fight the Phish
Phishing attacks and scams have thrived since the COVID pandemic began in 2020 and today, phishing attacks account for more than 80 percent of reported security incidents. Week 2 of Cybersecurity Awareness Month will stress the importance of being wary of emails, text messages or chat boxes that come from a stranger or someone you were not expecting. Think before you click on any suspicious emails, links or attachments and make sure to report any suspicious emails if you can!
Windows 11
Windows 11, the newest version of the Microsoft desktop operating system, has arrived. SWKLS tech staff will be evaluating the new release and provide more information at a later date. We strongly advise against upgrading to this version at your library as we have not tested compatibility with line-of-business software or peripherals at this time. Here are two good articles discussing features and upgrade considerations:
https://arstechnica.com/gadgets/2021/10/windows-11-the-ars-technica-review/?comments=1
https://www.computerworld.com/article/3632159/planning-to-update-to-windows-11-a-checklist-before-you-do.html
Google Will Auto-Enroll 150 Million Accounts into 2SV
Google has announced that they will automatically enroll 150 million Google user accounts into 2SV (two-step verification) before year's end. See their article here: https://blog.google/technology/safety-security/making-sign-safer-and-more-convenient/
---
System Spotlight
---
System Spotlight
If you would like to highlight your library, we'd like to hear from you. Whether it's about your activities, programs or anything else that is going on that you're proud of we can hold a spotlight on your library here in the Weekly Wrap UP if you email Jody at jhattrup@swkls.org
---
What's Your Favority Scary Movie?
The Stevens County Library couldn't let a display case sit empty…especially during Halloween Month! Director Stacey Strickland shared her seasonal, hand-painted ceramics collection with library visitors.
The Stevens County Library dares to ask "What's your favorite scary movie?" This passive display not only engages patrons, it provides collection development ideas!
Pumpkin Patch
Greeley County Library is starting its 7th annual Pumpkin Patch. The Library has a lot south of the library where they are able to decorate for the season. The Greeley County Elementary School classes from preschool through 5th grade each plan a visit for crafts, stories, playtime, a book, and pumpkin pie for each student. Many families visit the Pumpkin Patch through October for pictures as well. This has become a community tradition!