Future Dates & Training Opportunities
---
All times are in Central Standard Time (CST)
November 9 – 30, 2021 – Welcome, Catalogers! Registration for our 2nd Annual "Crafting Your Collection" is open, but space is limited. Click here for the link for eventbrite.com
November 25 & 26, 2021 – Office is Closed for the Thanksgiving Holiday
December 1, 2021, 1:00 pm – ALA Carrying Accessibility Forward/Registration Link
December 1, 2021 – Rural Library Summit/Registration Link
December 2, 2021, 11:30 am – CSLP Summer Symposium/Registration Link
December 7, 2021 – Train U.P. @ 2:00 PM – The Basics of DEI (diversity, equity, & inclusion)/ Registration Link
December 9, 2021, at 1:30 pm – After-Lunch Course with Jamie LaRue: HR Management/Registration Link
December 10, 2021 – 2nd Annual Crafting Your Collection 2021 at the G.C. Zoo/ Registration Link
December 17, 2021 – SWKLS Full Board Meeting Online Only/
Thanksgiving Thanks
To all of our member libraries I wish to give thanks to you. We at the System office recognize that each and every one of you strive to make you communities a better place. It's not only about the books on your shelves any more. So much has changed over the years that librarians have looked to the future to be ahead of the curve for their patrons.
Who would have thought that movies would ever be in a library for check-out? What about having a person read you a book? The thought was you are to read the book yourself and how many years has it been that audio books have brought joy to readers? Some wouldn't have any other avenue to read if not for audio books.
Graphic novels and manga started becoming more in-line to what a library has to offer. Then video games became a viable check-out. Music and other "Things" are a part of many libraries. With technology entering into the world, libraries have made in-roads to provide internet services and other technology based services to your patrons.
Many of you have also become counselors of a sort. People share their stories with you – good and bad / happy and sad. You listen in grace and try to give the person a pleasant experience in your library, which could be the only pleasant experience they get for the day. Some tears may fall, but happiness and willingness is your stock and trade.
The best part about this is that it doesn't matter where you fall within your community all are welcome into the library.
Thank you for all you do and enjoy the upcoming Thanksgiving Holiday with your families.
Free Birding Backpack
If any of your libraries would be interested in a FREE Birding Backpack (binoculars, backpack, and related literature, etc), it would greatly appreciated if you could fill out this survey: https://docs.google.com/forms/d/e/1FAIpQLSd3LibbqASts4wus_4G-zElle02R9XcZ2mb02N0XuUgLlFPDQ/viewform?usp=sf_link
The Audubon of Kansas is working on getting grants to get Birding Backpacks in as many libraries in Kansas as possible. They are using this survey to help figure out the logistics of this project and fill out the grant paperwork as completely as possible.
If you have any questions Laurie Crawford at Stevens County Library has offered to answer them. Thank you to her for her work in this area and sharing with the System Members.
ALA – Carrying Accessibility Forward Webinar
Wednesday, December 1, 2021 (11AM PT / 12PM MT / 1PM CT / 2PM ET)
Free Online Event
This past year certainly cast a spotlight on the importance of accessibility in online teaching and learning. Accessibility, however, is more than best practice checklists, Web Content Accessibility Guidelines (WCAG), or legalities. Join us as our presenter, Katie Quirin Manwiller, Education Librarian and Assistant Professor at West Chester University, shares her knowledge of disability and accessibility, addressing what the future could hold for universal design for learning (UDL) and practical ways to implement UDL in online instruction.
Attendance is Free! Register through ALA Events Link Here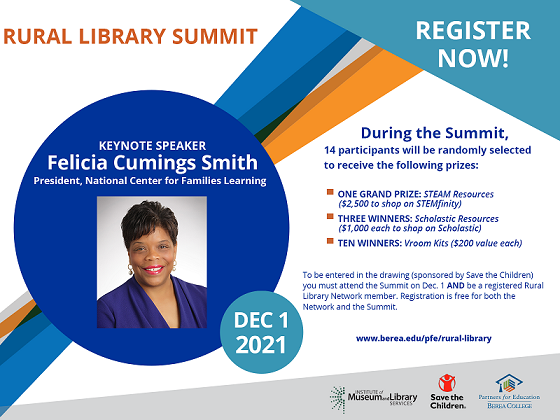 Rural Library Summit
I know this is the same date as the "Carrying Accessibility Forward" Webinar. So I'm afraid if you are interested in both you might have to chose one or the other. You could also register for both and jump over to the "Carrying Accessibility Forward" webinar during it's 1:00 pm time frame and then jump back over to the Rural Library Summit.
Save the Children and Partners for Education at Berea College are pleased to announce that the second annual Rural Library Summit will be held Wednesday, December 1, 2021. The Summit will explore how libraries can support cradle-to-career solutions by growing their impact on improving third-grade reading, combating food insecurities and enhancing mental health.
In addition to the opportunities for learning at the Summit, Save the Children is proud to offer $7,500 worth of support material to Rural Library Summit participants. Fourteen attendees will be randomly selected to win the prizes listed below.
1 grand prize winner – $2,500 to shop on STEMfinity
3 winners – $1,000 each to shop on Scholastic
10 winners – $200 Vroom Kits
To win, you must be present during the Summit and be a member of the Rural Library Network. Join the Network for Free Here.
For more information about the Summit schedule, including keynotes and breakout speakers, please visit our website. To register for the Summit, click here.
---
---
Cataloging, Collection Development, and ILL
---
New to the SWKLS Professional Collection & Available for ILL:
Join us for our next Train U.P.!
Tuesday, December 7th at 2PM CT – Register here: / Link
DEI or EDI (diversity, equity, and inclusion) is at the front line of a current movement that condemns discrimination. Librarians provide our communities with a safe forum to research, monitor, discuss, and address delicate issues such as this. The library is a safe place for all people, and it is our duty to denounce discrimination based on a person's ethnicity, gender, nationality, citizenship, religion, wealth, disability, age, sexual orientation, privilege, etc. Guided by our special guest, Dr. Marché Fleming-Randle from Wichita State University, we will increase our knowledge of basic DEI to enable SWKLS to become an active participant in this dialog. SWKLS U.P.!
Dr. Marché Fleming-Randle is the first African American Female Vice President for Military and Veterans Affairs at Wichita State University. Her research and academic interests include mental health, child and youth programs, educational leadership and diversity. She is an author, motivational speaker and public intellectual. Dr. Fleming-Randle earned her associate's degree in science from the University of Maryland, bachelor's degree in elementary education, her master's in adult and continuing education and her doctorate in education leadership from Kansas State University. She holds diversity certifications from Nova Southeastern University and Columbia University. . . / Link
---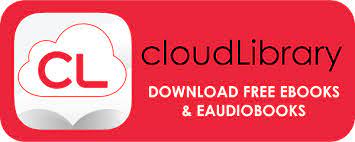 New to the Collection:
Winter- or Christmas-themed eAudio and eBooks — 16 titles in Spanish, and 17 titles in English.
---
Technology
---
SCAM ALERT!
If you get a letter in the mail similar to the one below, please know that this is a scam. All domain name renewal correspondence and invoices will come from the SWKLS office.
Google Will Auto-Enroll 150 Million Accounts into 2SV
Google has announced that they will automatically enroll 150 million Google user accounts into 2SV (two-step verification) before year's end. See their article here: https://blog.google/technology/safety-security/making-sign-safer-and-more-convenient/
Stay Safe While Shopping Online
online shopping isn't just convenient for us and good for businesses, it's good business for the fraudsters and cybercriminals. Scammers try to trick us into paying for goods we won't receive or obtain our personal information for financial gain. So, what can you do about it? It's important to take steps to protect yourself when shopping online. Click here for some tips to save safe online.
Can't Open Quickbooks??
Can't open Quickbooks? No need to fear Quickbooks is asking for an update. If you wish to do the update yourself SWKLS Tech staff have prepared directions on the SWKLS WIKI. Click here for the directions. If you need help with the update give us a call and any of our SWKLS techs can help you through this process.
---
System Spotlight
---
System Spotlight
If you would like to highlight your library, we'd like to hear from you. Whether it's about your activities, programs or anything else that is going on that you're proud of we can hold a spotlight on your library here in the Weekly Wrap UP if you email Jody at jhattrup@swkls.org
---
Crafts at Lane County Library