---
System Spotlight
By SWKLS Staff
---
Pictures From Our Travels
Here are some pictures we took while out and about, the past couple of weeks, of some cool things happening at our member libraries! Will we feature your library next?
---
Hanston Public Library Displays
Hanston is getting into the spirit of winter with their cute, whimsical winter displays! They're also highlighting book and movie tie-ins, a great way to generate interest in the collection. Way to go, Amy!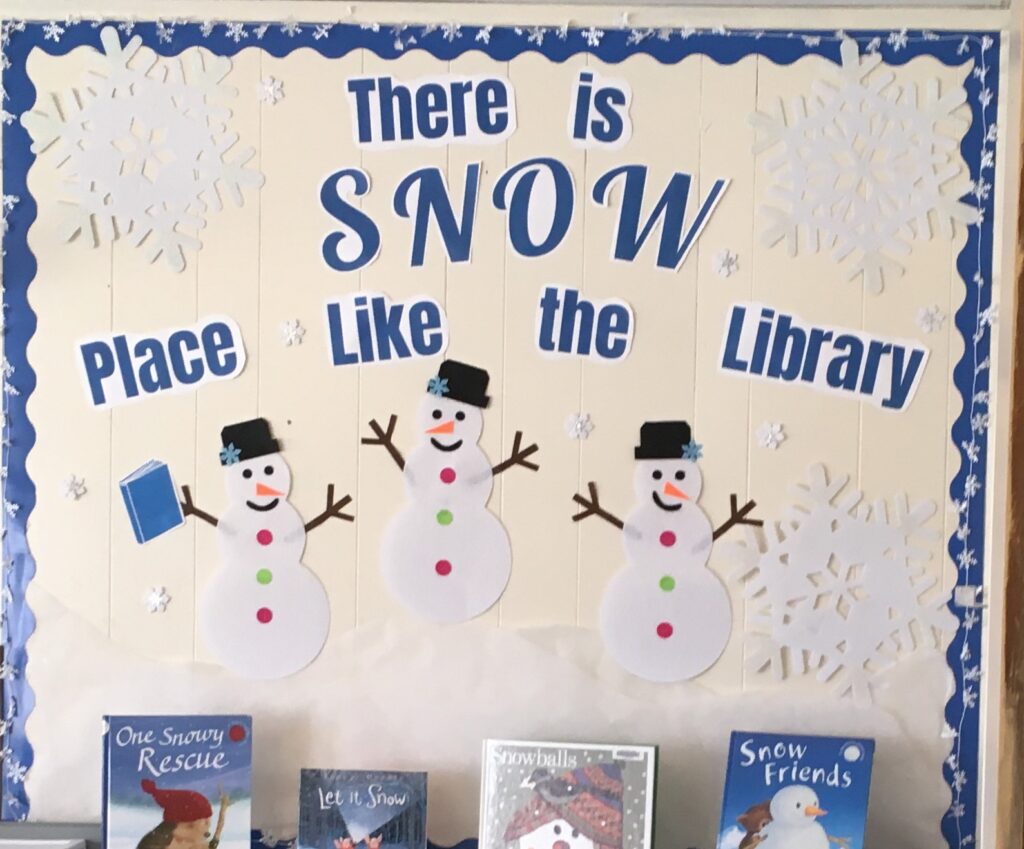 ---
Liberal Memorial Library Uses Glowforge to Customize
Liberal Memorial Library Director Royce Kitts took us on a tour of his library and showed us his Glowforge, which he uses to customize signs around the library, awards for patrons, and even name tags for staff and community organizations. These look awesome, Royce!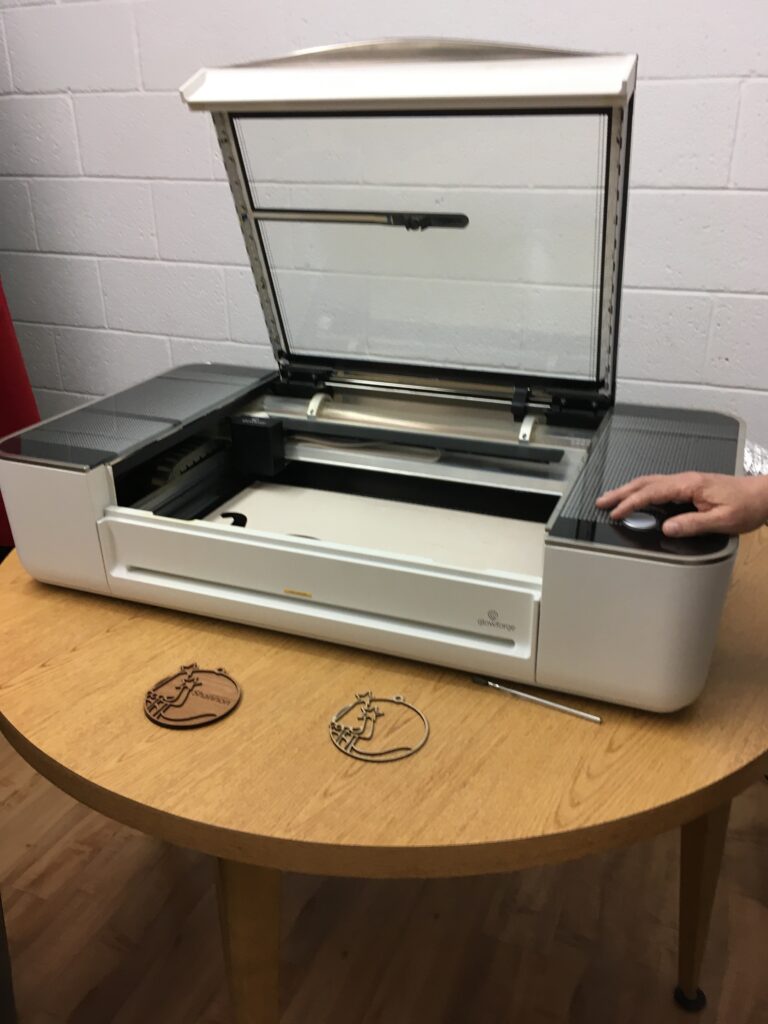 ---
Plains Community Library Displays & Activities
Plains Community Library has eye-catching displays as well as a gaming center and their meeting room is all ready for the next Lego club adventure. Looking great! Thanks for the tour, Patsy!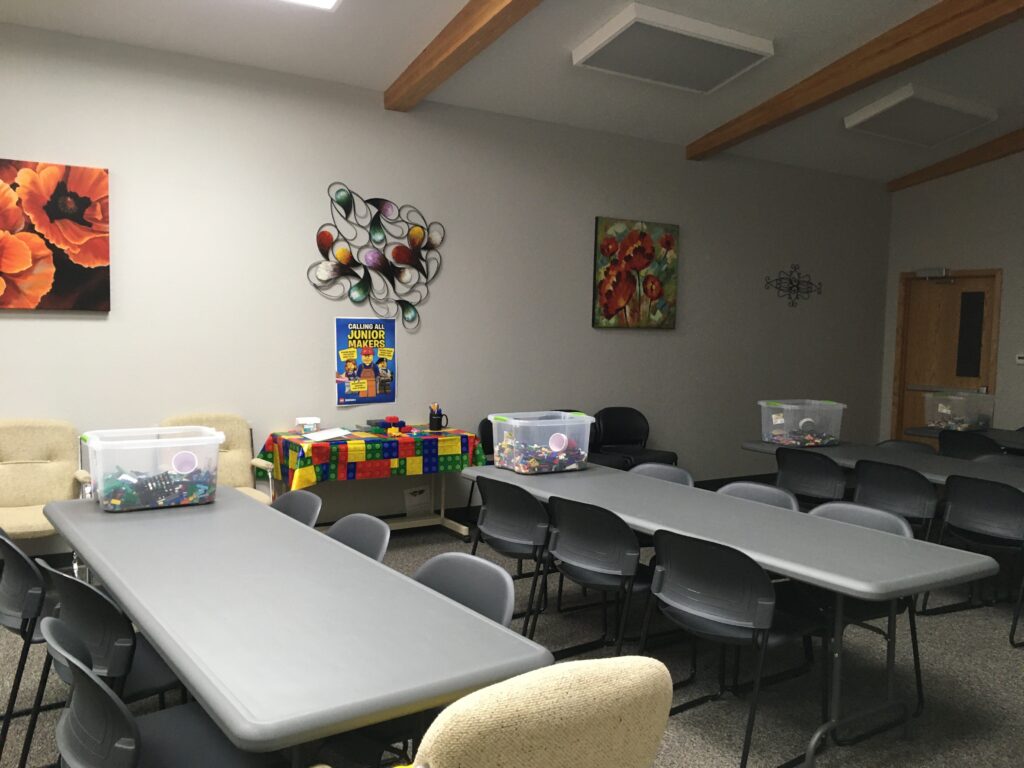 ---
Future Dates & Training Opportunities
March 15, 2023 – Great Stories Club Grant Application Deadline/Apply Online
March 24, 2023, 10:00 am – System Board Meeting at Grant County Library, Ulysses (Hybrid)/Registration Link & Zoom Link
March 31, 2023, 10:00 am – Summer (Reading) Program Workshop, at Finney County Public Library, Garden City/Registration Link
---
Consulting
By Richard Brookman
---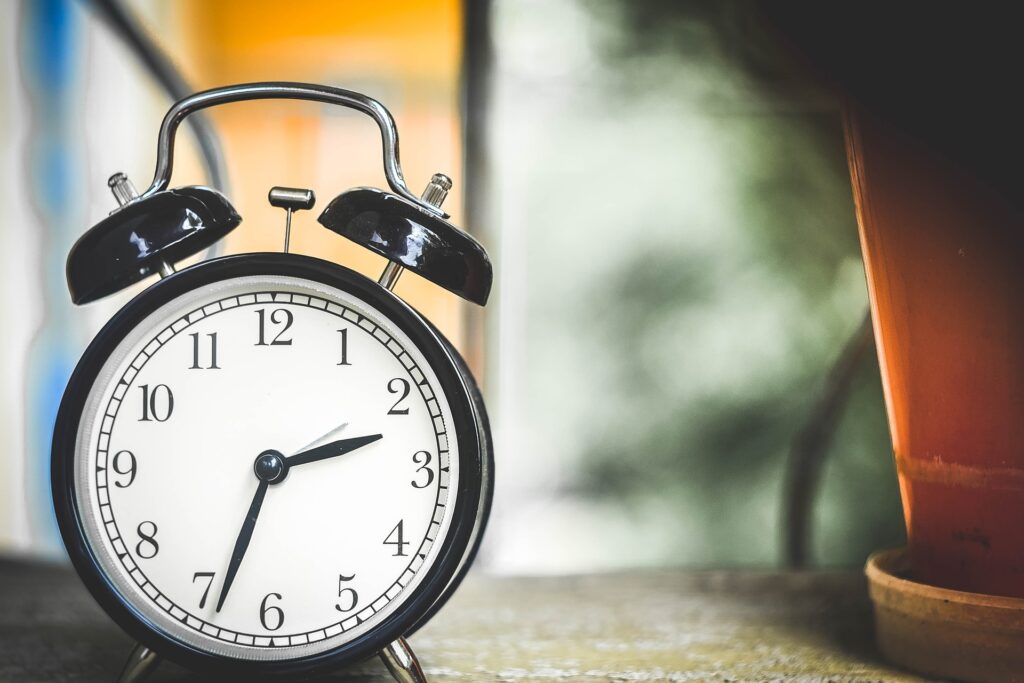 Daylight Savings Time
This is it! Daylight Savings Time begins this Sunday. Our clocks are going to need to "spring" forward one hour, so 6:00 am will become 7:00 am. Remind your staff so they can get ready to adjust there clocks as well as their bodies.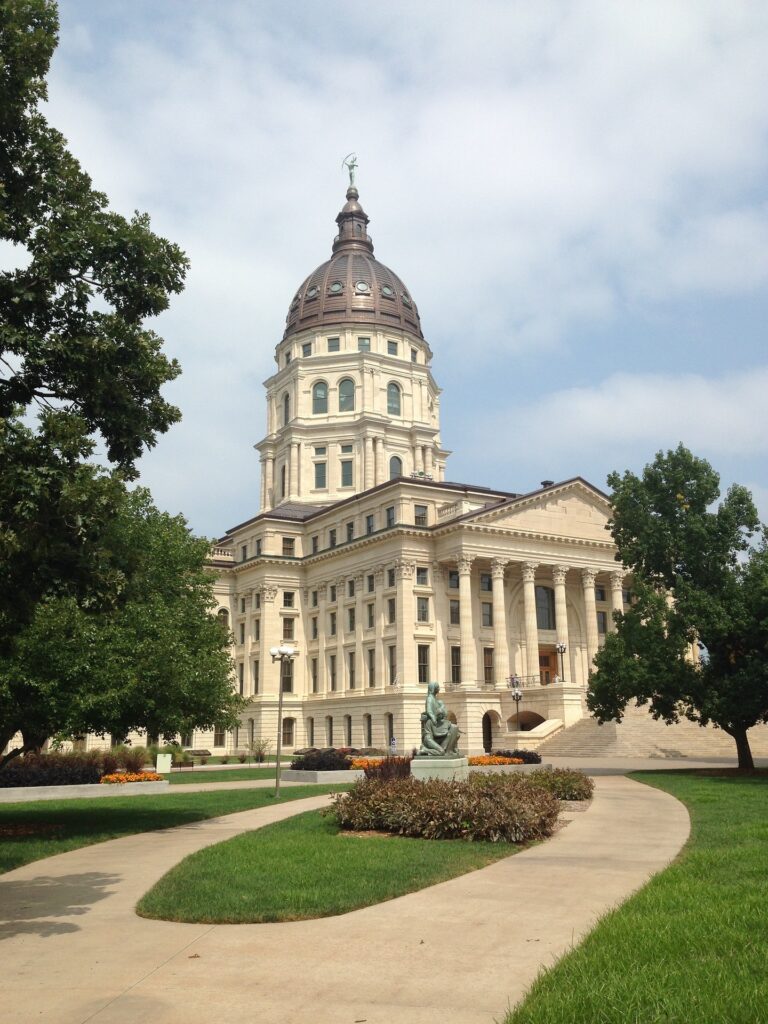 Legislative Updates
There are 4 bills that are being monitored at the moment SB 149 and 188 and HB 2176, 2205, 2236, and 2271. Here is the status of each as of today:
SB 149 – "Expanding the crime of promoting obscenity to minors to include drag performances." This bill was referred to the Committee on Judiciary on February 3, and no further activity has occurred.
I am monitoring this bill because if it does pass it could effect public libraries. Here is the language that I am looking at ""drag performance" means a performance in which one or more performers: (A) Exhibits a gender identity that is different from the performer's gender assigned at birth using clothing, makeup or other accessories that are traditionally worn by members of and are meant to exaggerate the gender identity of the performer's opposite sex; and (B) sings, lip-synchs, dances or otherwise performs before an audience of at least two persons for entertainment, whether performed for payment or not;… (5) "performance" means any play, motion picture, dance or other exhibition performed before and audience."
This language could change how library collections look and can contain.
SB 188 – "Removing an affirmative defense for public, private and parochial schools from the crime of promotion to minors of material harmful to minors." This bill was referred to the Committee of Judiciary on February 8 and no further activity has occurred.
This bill only covers taking away a public, private and parochial schools, which include their libraries. This can very quickly change in the future to include public libraries given the current political climate.
HB 2205 – "Creating the Udall area public library district act, requiring an election for the creation of such district and authorizing unified school district No. 463 to levy a tax on behalf of the library district."
HB 2276 – "Creating the Arkansas city area public library district act, requiring an election for the creation of such district and authorizing unified school district No. 470 to levy a tax on behalf of the library district."
Both HB 2205 and 2176 have been combined into just HB 2176 and has passed the House and is in the Senate. The Senate has referred this to the Committee on Assessment and Taxation and a hearing is set for March 14, at 9:30 am in Room 548-S.
HB 2236 – "Establishing parents' right to direct the education, upbringing and moral or religious training of their children including the right to object to harmful and inappropriate educational materials." This bill was referred to the Committee of Education and had a Hearing on March 9, that I was unable to watch, for personal reasons, to see if it has been moved to the floor or remains in committee.
I am keeping track of this for the same reason of keeping track of SB 188. Even though, in my opinion, it is a duplicate to K.S.A. 38-141, and pinpoints educational materials, it could turn upon public libraries.
HB 2271 – "Authorizing any nonresident student whose parent or guardian is employed by a school district to enroll in and attend such school district." This bill has been referred to the Committee on K-12 Education Budget on March 1, and no further activity has occured.
This bill has had the "Parent Portal" wrapped into it, that was in last year's legislative session.
I know not all of these bills cover public libraries, but they easily could. I am also looking at these for our school libraries that could be facing difficulties if these bills are pass and made into law. Hence why I did the presentation at the KASL Regional Workshop this past Saturday.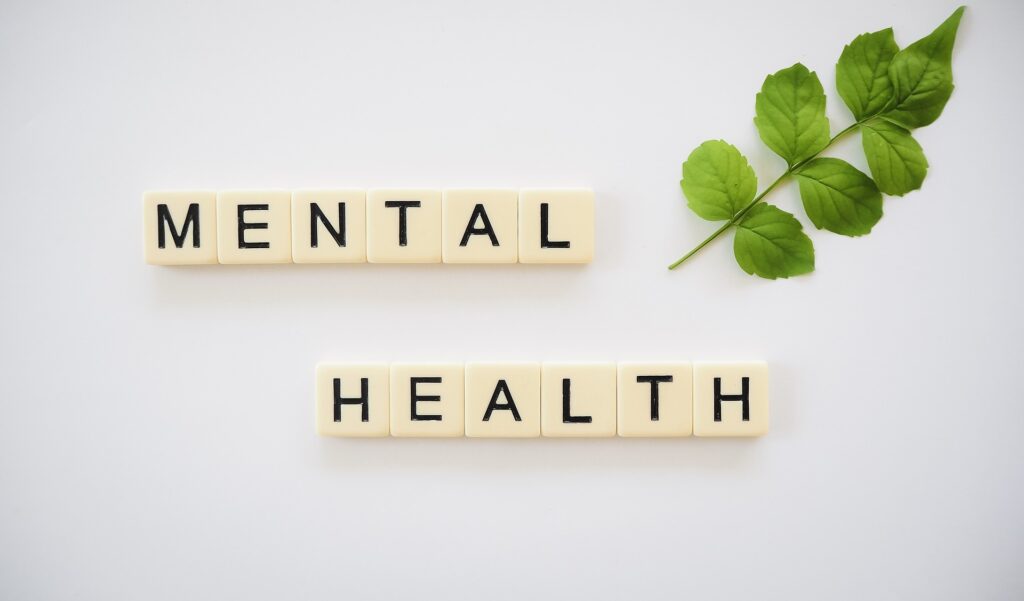 March 24 System Board Meeting Zoom Link
The Zoom Link for the March 24 System Board meeting has been established and is in the calendar part of the Weekly Wrap UP and at the bottom of this piece.
A representative from the Ulysses Compass office will be visiting with our members on how librarians can assist and interact with patrons that have challenges. The program is entitled "Know the Warning Signs".
Some of the topics I have asked them to discuss are: recognize patrons with challenges; how to visit with patrons with challenges without having them feel threatened; how to de escalate situations with patrons with challenges; how to visit with staff that might have challenges; and what librarians need to be aware of so they don't accidentally violate health privacy of a patron.
This session will not be recorded. If you have already registered as attending through Zoom and you would like to change to in-person you will need to contact Tandy as soon as possible so we can have accurate numbers for lunch.
If you haven't registered yet you can do so through this link. If you are attending through Zoom here is that link.
---
Cataloging, Collection Development, and ILL
By Sara Wilson
---
Collection Development Inspiration
---
---
In Literary News
---
R.L. Stein Denies Green-Lighting Censorship of His Books
R.L. Stein, author of the acclaimed Goosebumps series, has been under fire recently for allegedly okaying the censorship of more than 12 of his beloved books. Stein, however, denies the allegations and alleges that his publisher made the edits without his knowledge. Scholastic admits to having made the changes, but hasn't made a statement one way or the other about the level of knowledge or involvement of the author. Click here for more details.
---
Recent Book Challenge Issues Making the News
Libraries are feeling the impact of book challenges across the country. Here are some recent news reports involving book challenges and bans across the United States. (Special thanks to Sara Koehn, Director of Haskell Township Public Library and Sean Bird, Interim Dean of University Libraries at Washburn University for their contributions to this list, this week!)
Oklahoma Libraries Once Again Under Microscope at Capitol (Oklahoma)
State House Committee Rejects Bill That Would Make Librarians Criminally Liable for Distribution of Obscene Material (Arkansas)
Senate Bill Allows Prosecution of Educators Over 'Bad Books,' Also A Grievance Process (Indiana)
Minot 'Read-In' Protests Book Banning Legislation (North Dakota)
House Committee Looks to Enforce Age-Appropriate Books, School Discipline (Iowa)
Librarians or Parents? Idaho House Bills Differ on 'Harmful' Materials Responsibility (Idaho)
As Bills in Multiple States Threaten Librarians with Criminalization, Advocates Are Fighting Back (From School Library Journal)
ALA OIF Blog 3.3.23: https://www.oif.ala.org/intellectual-freedom-news-03-03-2023/
First Amendment Coalition: https://firstamendmentcoalition.org/news-opinion/first-amendment-news/
Empowered by Reading (Unitedagainstbookbans): https://uniteagainstbookbans.org/wp-content/uploads/2022/09/Empowered-by-Reading-final.pdf
---
---
In Case You Missed It
---
For All VERSO Users: "Versed in VERSO" Coming Up
From VERSO Product Manager Rae Schneider:
Are you curious about upcoming VERSO features and enhancements?
At this month's Versed in VERSO, Cheryl Slinkard, Chief Operations Officer at Auto-Graphics, will be presenting a quarterly product update.
Please join us Tuesday, March 14, at 11:00AM Eastern / 8:00AM Pacific. The first 15 minutes of Versed in VERSO will be a product update followed by the regular Q&A session.
If you have a question, please ask it here: https://forms.office.com/r/kr1N0U7G85
To register for the next Versed in VERSO, please do so here: https://attendee.gotowebinar.com/rt/1165596002130880779
---
For ILLers: "Sharing About SHAREit" Q & A Coming Up
From SHAREit Product Manager Deborah Hensler:
The next Sharing about SHAREit Q&A is scheduled for March 22, 2023 at 1pm.
Registration is open at: https://attendee.gototraining.com/r/7726015750177957632

In this Q&A we'll answer more questions about ILL Request Management. Please enter your question(s) on the registration form.

A confirmation email containing information about joining the training will be sent after registering.
---
For Non-Public Library ILLers: Non-Public Library ILL Survey Deadline
Just a reminder that the 2022 Non-Public Library ILL Survey is due today, March 10! If you have any questions about how to fill out the survey or how to generate SHAREit stat reports, contact Nikki Hansen, Resource Sharing Librarian with the State Library of Kansas & she'll be happy to help you!
---
Technology
by Christopher Dressler
---
Tablet Entertainment Learning