Future Dates & Training Opportunities
---
All times are in Central Standard Time (CST)
January 18, 2022, 10:00 am – 3:00 pm – State Library Survey Workday at Stevens County Library (Hugoton)/Registration Link
January 19, 2022 – Crafting Your Collection Online (Closes Today)- Registration Link
January 19, 2021 at 1:00 pm CT – Library Violence Prevention and De-escalation Niche Academy Webinar/Registration Link
January 20, 2022, 1:00 pm – Introducing: Strategic Planning for Public Libraries Public Library Association Webinar/Registration Link
January 21, 2022- Full Board Meeting Online Only- Registration Link
January 24, 2022, 10:00 am – 3:00 pm – State Library Survey Workday at Jetmore Public Library/Registration Link
January 28, 2022, 10:00 am – 3:00 pm – State Library Survey Workday at Scott County Library (Scott City)/Registration Link
January 31, 2022, 10:00 am – 3:00 pm – State Library Survey Workday at Ashland City Library/Registration Link
February 7, 2022, 10:00 am – 11:30 am – Summer Reading Program Family Idea Swap/Idea Submittal Link & Registration Link
February 8, 2022- Train U.P.!- STEAM/Registration Link
March 4, 2022 – Summer (Reading) Library Program Workshop
March 10, 2022 – After Lunch Course "Policy Writing & Review"
June 9, 2022 – After Lunch Course "Intellectual Freedom"
September 8, 2022 – After Lunch Course "Cultural Humility"
December 8, 2022 – After Lunch Course "Lead From Where You Are"
---
System Spotlight
---
If you would like to highlight your library, we'd like to hear from you. Whether it's about your activities, programs or anything else that is going on that you're proud of we can hold a spotlight on your library here in the Weekly Wrap UP if you email Jody at jhattrup@swkls.org
---
Bucklin Public Library
Bucklin Public Library has some exciting news to share! They got new furniture in their Children's room complete with power ports and USD ports for personal devices. The furniture is courtesy of the ARPA grant administered by Kansas State Library.
The Bucklin Public Library also is proud to host the "LIFE IN THE TRENCHES" exhibit courtesy of the Smoky Hill Museum. This is an interactive exhibit with excellent information for all ages. The exhibit will be here until February 11 and is available during our regularly scheduled hours. It's a fantastic exhibit, one you don't want to miss. Feel free to share this information with friends and family. This is one of those "Don't miss" exhibits.
---
Consulting
---
2021 to a Close and Opening 2022
The month of January is that time for the System office to close out the previous year and make the transition into the new year. I will be out of the office for the State Library Survey Workdays and if there is time I will stop by libraries on the way back through.
I will work in my library visits as I did in 2021. There will be times that I will call and see if you are available, however the majority of the time I tend to stop in libraries on my way back through from scheduled visits to other libraries. I would love to visit with you when I stop in, but I realize there will be times your aren't at the library or you might be busy. If you are busy and you can't visit I understand and I will stop by another time.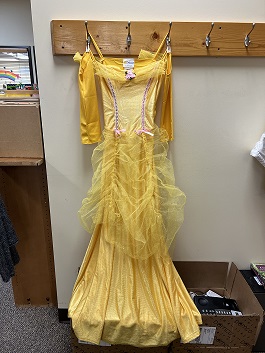 Scott County Library Loaning Beauty Costume (Beauty & the Beast)
As part of the program I attended last year for Scott County Library and the County's Parade I wore the Beast costume. The library also purchased a Beauty costume for one of their staff to wear. The library is generously offering this costume for use at other libraries if they plan to use the Beast costume for a program. The dress is pictured above and it is a small petit. Scott County Library will need to know with enough time in advance so they can send it to your library through the courier.
Thank you to Scott County Library for offering the Beauty costume to share with the rest of our membership.
Changes in Notary Public Law 2022
On January 1, 2022 the Notary Public Law has changed. Some of our libraries provide this service. If your library is one of the libraries that provides notary services please read through the brief entry here and then follow up with the actual documentation for more detailed information.
SB 106 is the new standard and the Kansas Secretary of State has issued a brief overview for the changes. If you wish to read Senate Bill 106 here is the link. To read the brief overview that the Kansas Secretary of State issued you can do so at this link.
One of the bigger changes is that now notaries have to keep a Notary Journal with the following entries:
Date and time of the notarial act;
description of the record, if any, and type of notarial act;
full name and address of each individual for whom the notarial act is performed;
if the individual is identified based on personal knowledge, a statement to that effect; If the individual is identified based on an identification credential, such as a driver's license, or identified by a credible witness, a brief description of the method of identification and, if an identification credential is used, the date of issuance and expiration date of the credential; and
the fee, if any, charged by the notary.
One can may maintain a journal in both a tangible form and an electronic form. If you maintain a physical journal you can only have the one journal. If you maintain a digital journal it is allowable to maintain more than one journal.
This journal has to be maintained for 10 years after the last entry for retention purposes. The notary may transfer their journal to an approved repository for retention.
There are other changes that you can read on the informational file the Kansas Secretary of State has provided and it has links to other resources and forms that you will need in your function as a notary.
Thanks to Candis Hemel, Director of Cimarron City Library for forwarding this information to the System Office so I could include it in this Wrap-UP!.
2022 Summer Library Program Free Matter
The System office has received the Summer Library Program Free Matter (posters, bookmarks, and the like). There was some damaged items that we had to reorder. Many of you will receive your library's order from System Staff that are coming to your library or it will come via the Courier in the coming weeks.
Library Violence Prevention & De-escalation Webinar
Niche Academy will be hosting a free webinar on Wednesday, January 19, at 2:00 pm ET on Library Violence and De-escalation. The webinar will discuss "how staff/patron interactions typically affect the level of risk more than the physical environment itself" and understanding the level of risk can "determined by our approach and response to patron behaviors."
Hugh Pelmore, founder of ARETE Safety and Protection Inc will be presenting the webinar and you can register through this link.
Introducing: Strategic Planning for Public Libraries
The Public Library Association is hosting a free webinar Thursday, January 20, at 1:00 pm CT on Introducing: Strategic Planning for Public Libraries in conjunction with the release of Joy L. Fuller's title Strategic Planning for Public Libraries. The session will provide the "strategic planning framework and approach outlined" in the title, navigating the title "for various cases and effectively use accompanying templates", and the process of ""planning the plan" and understanding why this often-overlooked step is so important".
Joy L. Fuller will be presenting the session. If you would like to attend you can register through this link.
State Library Survey Workday Dates
Stevens County Library (Hugoton) on Tuesday, January 18, 2022 from 10:00 am – 3:00 pm
Jetmore Public Library on Monday, January 24, 2022 from 10:00 am – 3:00 pm
Scott County Library (Scott City), on Friday, January 28, 2022 from 10:00 am – 3:00 pm
Ashland City Library, on Monday, January 31 from 10:00 am – 3:00 pm
To register for any of these workdays please reference the calendar section above.
Recording of State Survey Overview from January 13, 2022
---
Cataloging, Collection Development, and ILL
---
State Survey Directions for
VERSO

Reporting / Link
State Survey Directions for

ILL

Reporting / Link
Seeking Mural Artists
Do you know of any local muralists or painters who are available for outdoors projects? If so, please let Kelly know. Thank you!
New Leaf Pick-up Dates in 2022
April 13 & October 12: DCPL, Ness, and Sublette
April 20 & October 19: Plains and Ashland
*If you have more than 10 boxes of weeded items to donate, you are welcome to schedule a pick-up date with New Leaf just for your library. Email Kelly for details.
Library of Congress Subject Headings (LCSH)
The Library of Congress is in the process of changing many of its outdated and offensive language. This is L-O-N-G overdue! Auto-Graphics is preparing software which will automatically replace the outdated language with terms which are more appropriate for diversity, equity, and inclusion (DEI). A few examples are:
Outdate Language
Illegal aliens –>
Extranjeros ilegales –>
Aliens –>
Sexual minorities –>
(American) Indians –>
Native Americans –>
Diversity, Equity, & Inclusion (DEI)
Undocumented immigrants
Inmigrantes indocumentadoes
Noncitizens
LGBTQ people
Indigenous Peoples
Indigenous Peoples