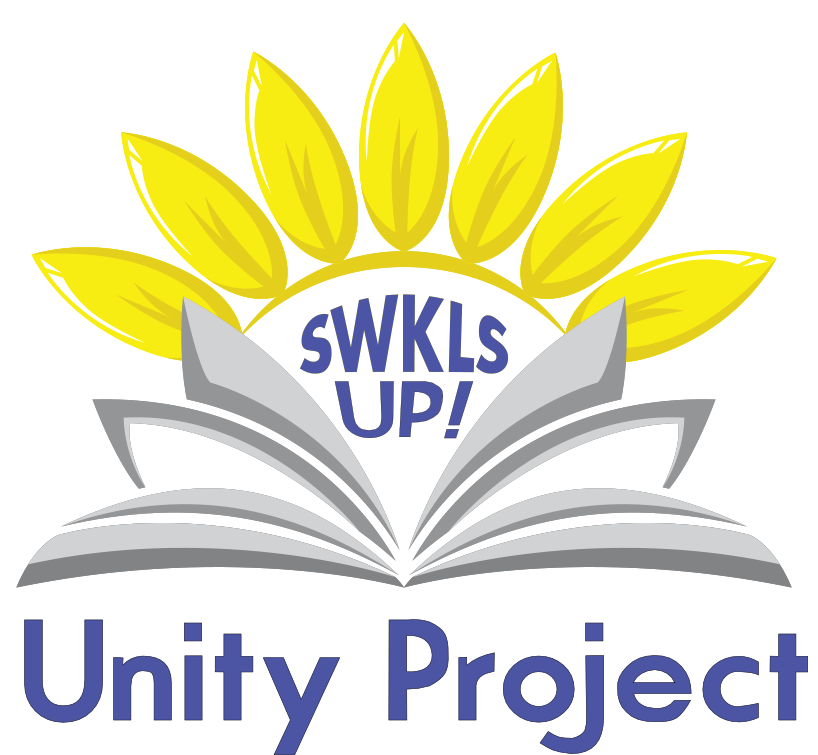 Contributions to the Weekly Wrap-up are from all SWKLS staff.
Future Dates & Training Opportunities
All times are in Central Standard Time (CST).
February 1 2021 – State Library Survey Report Due. If you need an extension please contact Richard.
February 2, 2021 – Directors Forum – 2:00 pm, "Bonding thru Board Games: Developing the Six Traits of Strong Families", Elizabeth Brunscheen-Cartagena – Guest Speaker
February 2, 2021 – Directors Forum Zoom Link: https://kslib.zoom.us/j/735791720
February 17, 2021 – Website Maintenance Training/ Registration Link
The SWKLS Unity Project proposed calendar is now available on the SWKLS Wiki
This calendar will be edited as 2021 progresses, and it contains recommended tasks in each of the four "branches" of the SWKLS U.P. "tree": ILL (SHAREit), ILS (VERSO), new directors, and technology. You may wish to check the calendar regularly to organize tasks such as checking brief bibs, new directors' training, counting ILLs monthly, checking CAT Express activity, weeding, New Leaf pick-ups, etc. / Link
Accreditation Standards
The new form is available on the System's website it directors would like to start working on the accreditation application. The application is due October 31, 2021 (Accreditation Main Page on the System's website).
Continuing Education Hours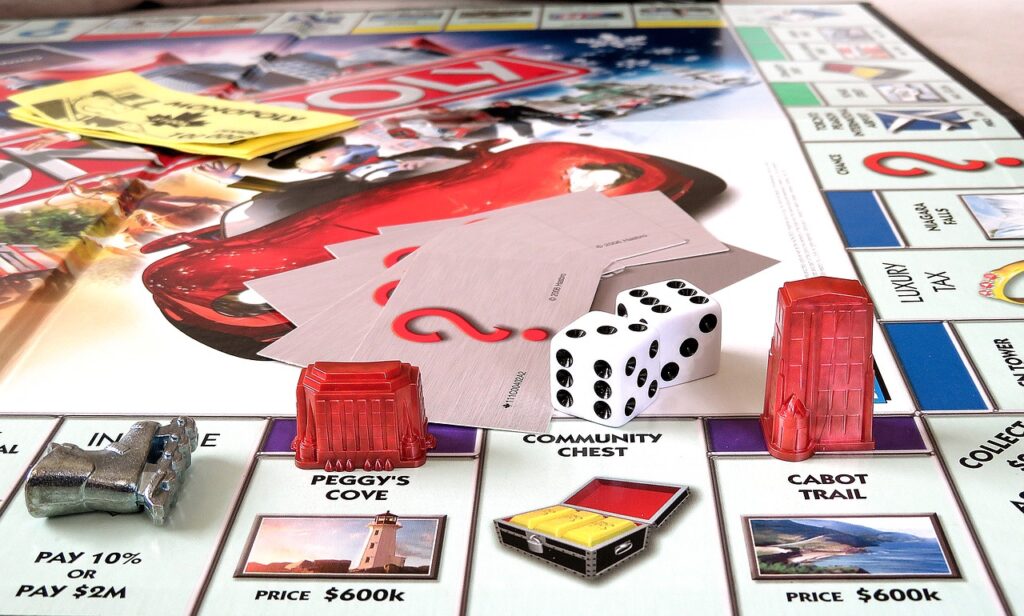 Bonding thru Board Games: Developing the Six Traits of Strong Families
For the upcoming Directors Forum (February 2, at 2:00 pm) we will be having a presentation from Elizabeth Brunscheen-Cartagena, County Extension Agent/Family Life & Resource Agent/K-State Research & Extension of Sedgewick County, entitled "Bonding thru Board Games: Developing the Six Traits of Strong Families. This presentation is open to all who wish to attend in your libraries. Image provide by ErikeWittlieb via Pixabay.com.
After-Lunch Courses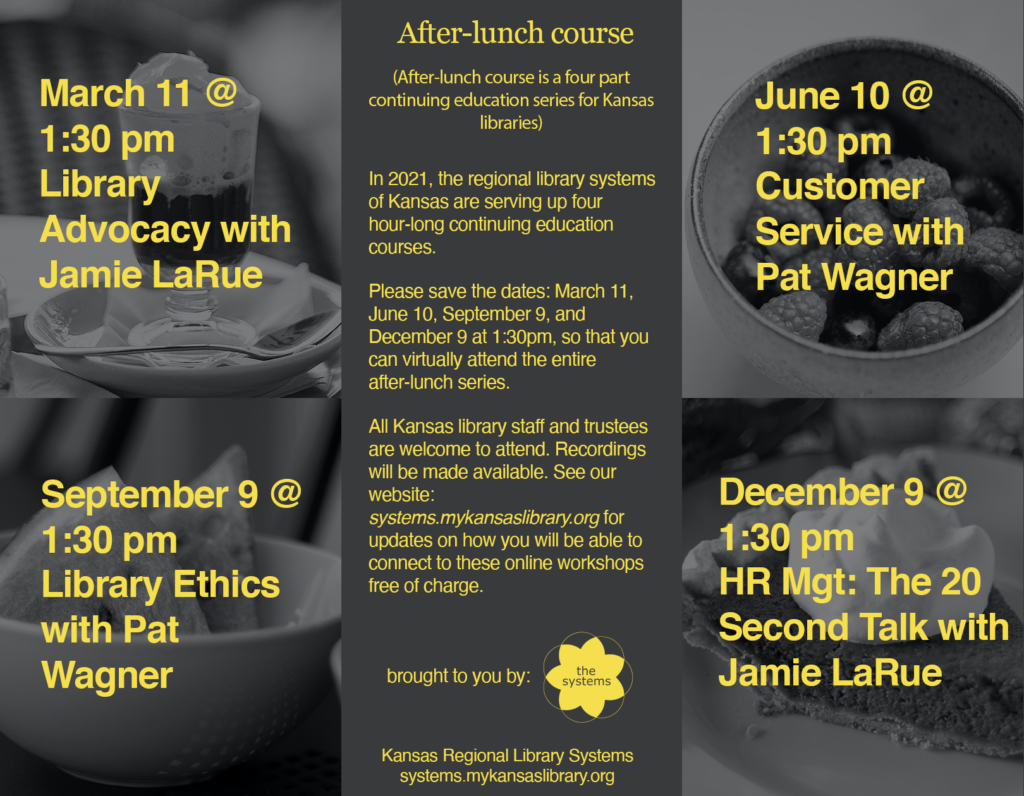 Throughout 2021, the Kansas Regional Library Systems are offering four free continuing education workshops on Zoom, for a series we are calling "after-lunch course". Registration announcements will be posted to Kan-Lib, and to the regional system's website: systems.mykansaslibrary.org.
The registration for March's online course, with Jamie LaRue, should be available on February 3rd.
Win a Tablet!!
Ever session is worth one hour C.E. credit.
ARSL Leadership Institute Applications Are Now Open!
Good afternoon, ARSL members!
We are excited to announce that applications for ARSL's pilot leadership institute, Outstanding In Their Field, are officially open! We are looking for 30 outstanding people who are currently working in rural and small libraries to join us for this special professional development opportunity.
Applications will be accepted through February 24th, 2021.
Participants, a.k.a. "Outfielders," will undertake 18 months of online and in-person interactive sessions.
It's a BIG commitment, and rewarding! Participants will gain:
skills and confidence as leaders
a network of colleagues throughout the country
experiences at two ARSL conferences
New Leaf Pick-up Locations in SWKLS–Another location just added!
Prior to dropping off your weeded items to the locations below, please call the library's director.
April 14 & October 13: Dodge City Public Library, Haskell Township, and

Ness City

April 21 & October 20: Plains & Ashland
Should we use "edit bib record" or "add new item" to copy-catalog?
"Add new item" — After finding a good quality record, a cataloger can click this link, add the library's holding, and click submit. The item has been added to the catalog without making any changes to the bibliographic record. Easiest option!
"Edit bib record" — Performs the same task as "add new item" but with a few extra clicks: The library adds its holding information and clicks the "gold barrel" to save the record to the catalog. Additionally, for catalogers with full cataloging permissions, the bib record can be edited here, i.e. MARC field tag changes. It is a best practice for catalogers to edit bib records after receiving specialist training.
For questions or concerns, feel free to contact Kelly.
Coming Soon to the SWKLS Professional Collection:
Coming Soon to the SWKLS StoryWalk Collection: