Future Dates & Training Opportunities
Future Dates & Training Opportunities
All times are in Central Standard Time (CST).
February 17, 2021 – Website Maintenance Training/ Registration Link
March 2, 2021 – The Train U.P.! (formerly the Directors Forum) at 2:00 pm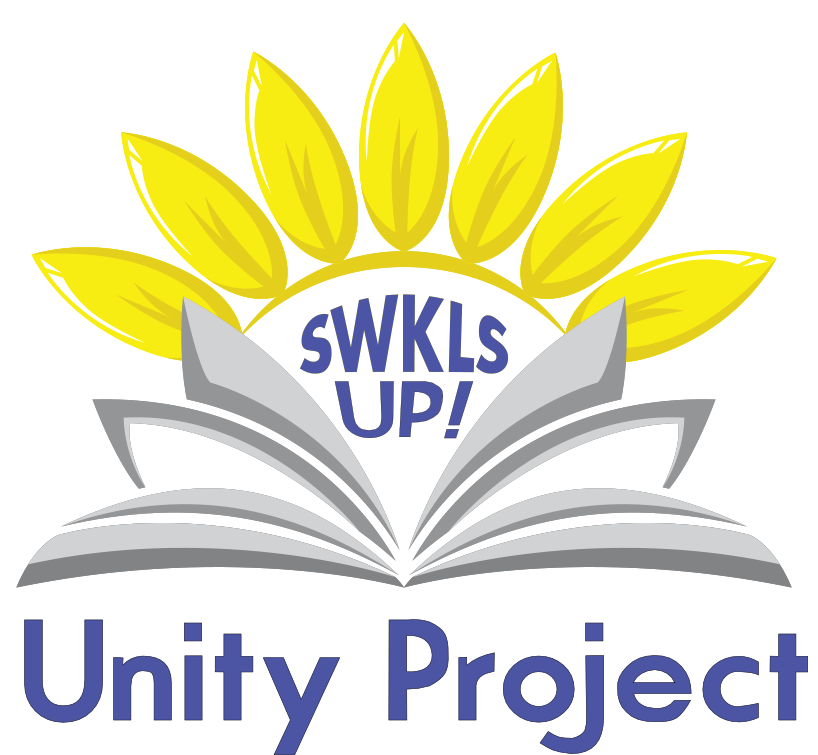 The SWKLS Unity Project proposed calendar is available on the Wiki
This calendar will be edited as 2021 progresses, and it contains recommended tasks in each of the four "branches" of the SWKLS U.P. "tree": ILL (SHAREit), ILS (VERSO), new directors, and technology. You may wish to check the calendar regularly to organize tasks such as checking brief bibs, new directors' training, counting ILLs monthly, checking CAT Express activity, weeding, New Leaf pick-ups, etc. / Link
The Directors Forum is being rebranded to The Train U.P.! to coincide with the SWKLS Unity Project. The main feature will be Continuing Education presentation and then at the end of the session the SWKLS Departments will relay any news that needs to be mentioned.
Vaccine Links
Below are the two links to assist with COVID-19 Vaccine information. Find my vaccine is a webpage to assist with information on where within your area vaccines are being distributed. The KDHE's YouTube channel is the second link for vaccine information. If you watch the session please remember to let Richard know so it can be updated in the Continuing Education files.
Find My Vaccine — https://www.kansasvaccine.gov/160/Find-My-Vaccine
KDHE's meeting with House Children and Seniors link: https://www.youtube.com/watch?v=HlnnbevpgZk
Unemployment 1099-G forms
If you or a staff member receive a 1099-G form of unemployment funds being distributed to them you will want to give them this information. They can call the Department of Labor at 785-575- 1461. The number will be staffed during regular business hours from Monday through Friday 8 a.m. CST to 4 p.m. CST, extended hours Monday through Friday 4 p.m. CST to 8 p.m. CST and Saturday 8 a.m. CST to 2 p.m. CST.
If you do not wish to keep calling the Department of Labor telephone number the site does have an "Unsworn Declaration of Payments not Received/Identity Theft" form that Tandy located last night, after the site became live again. This form has an address that you can send the form directly.
Here is the link to the form:https://www.dol.ks.gov/docs/default-source/ui-benefits-forms/1099-g-forms/k-frd-100.pdf
How do I report fraud if I received a 1099-G form for a fraudulent claim in my name?
If you received a 1099-G form for a claim that you did not receive payment for due to identity theft, you can fill out a request on the KDOL Self-Service Portal under "1099 Protest/Dispute", making sure to check the box for "I want to dispute my 1099" and upload an Unsworn Declaration to declare you did not receive the benefits that were stated on your 1099-G form issued from the Kansas Department of Labor.
You can also send a written dispute with your full name and last 4 digits of your social security number to the Kansas Department of Labor at the following address:
Fraudulent 1099 Inquiry
Kansas Department of Labor
401 SW Topeka Blvd.
Topeka, KS 66603-3182
Make sure to include the reason of identity theft in your written dispute and a copy of a completed Unsworn Declaration form.
Additionally, if you have not so already, go to www.dol.ks.gov/fraud to submit a report to our Fraud Investigation team. For more information on reporting fraud, see the Unemployment Fraud FAQ page.
Accreditation Standards
The new form is available on the System's website it directors would like to start working on the accreditation application. The application is due October 31, 2021 (Accreditation Main Page on the System's website).
After-Lunch Courses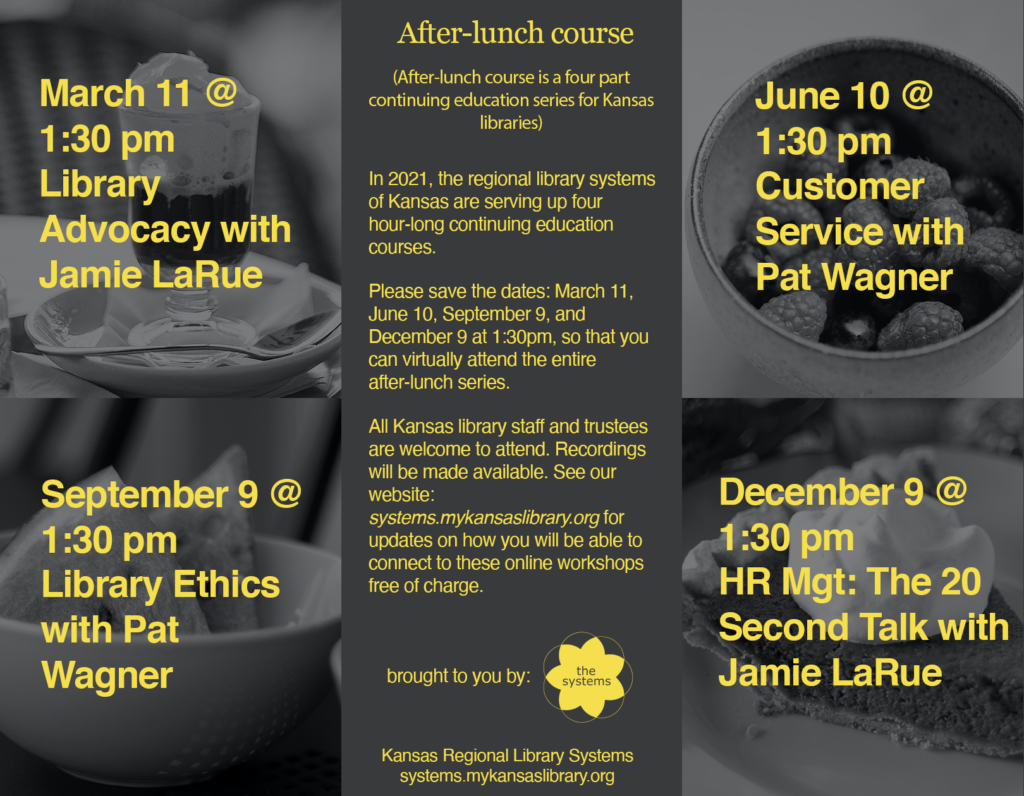 Throughout 2021, the Kansas Regional Library Systems are offering four free continuing education workshops on Zoom, for a series we are calling "after-lunch course". Registration announcements will be posted to Kan-Lib, and to the regional system's website: systems.mykansaslibrary.org.
The registration for March's online course, with Jamie LaRue, should be available on February 3rd.
ARSL Leadership Institute Applications Are Now Open!
Good afternoon, ARSL members!
We are excited to announce that applications for ARSL's pilot leadership institute, Outstanding In Their Field, are officially open! We are looking for 30 outstanding people who are currently working in rural and small libraries to join us for this special professional development opportunity.
Applications will be accepted through February 24th, 2021.
Participants, a.k.a. "Outfielders," will undertake 18 months of online and in-person interactive sessions.
It's a BIG commitment, and rewarding! Participants will gain:
skills and confidence as leaders
a network of colleagues throughout the country
experiences at two ARSL conferences
New Leaf Pick-up Locations in SWKLS
Before dropping off your weeded items to the locations below, please call the library's director.
April 14 & October 13: Dodge City Public Library, Haskell Township, and Ness City
April 21 & October 20: Plains & Ashland