Future Dates & Training Opportunities
---
System Spotlight
By Jody Hattrup
---
Hamilton County Library Display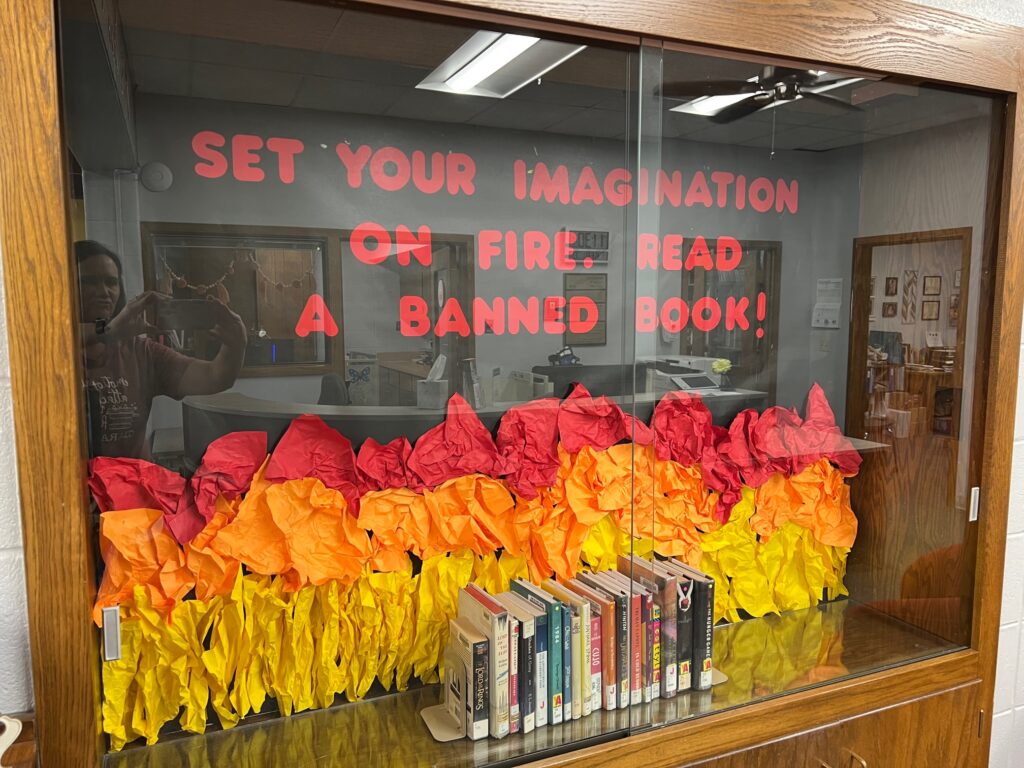 Kismet Public Library
---
Consulting
By Richard Brookman
---

SEAL Offers Free Solar Eclipse Glasses to Libraries
In 2023 their will be an Annular Solar Eclipse and then in 2024 there will be a Total Solar Eclipse. "To help libraries have activities around these two events the STAR Library Educations Networks SEAL (Solar Eclipse Activities for Libraries) initiative is distributing approximately 5 million solar eclipse viewing glasses within the 50 states, and US territories and protectorates."
If you are interested in obtaining solar eclipse viewing glasses for your library you can fill out this registration form. After going to this webpage you will need to go down towards the bottom where there are four blue boxes. The first box is the link to fill out the registration form. The other boxes are opportunities for "Upcoming Eclipse Training", "Join the STAR Net Eclipse Network Community", and "Find Eclipse Activities".
"The application must be completed in one setting, so be prepared for this, because you won't be able to go back and edit your answers. Applications will be reviewed in the order that they are received and the glasses will be distributed on a first come/first serve basis.
Requirements to receive the glasses are:
Be a public library in the U.S., D.C., or in a territory or protectorate;
Agree to distribute the glasses for free at the eclipse events; and
Provide a signed letter from your library director agreeing to the above."
Thanks to Audrey, Meade Public Library, for passing along this opportunity for our member libraries.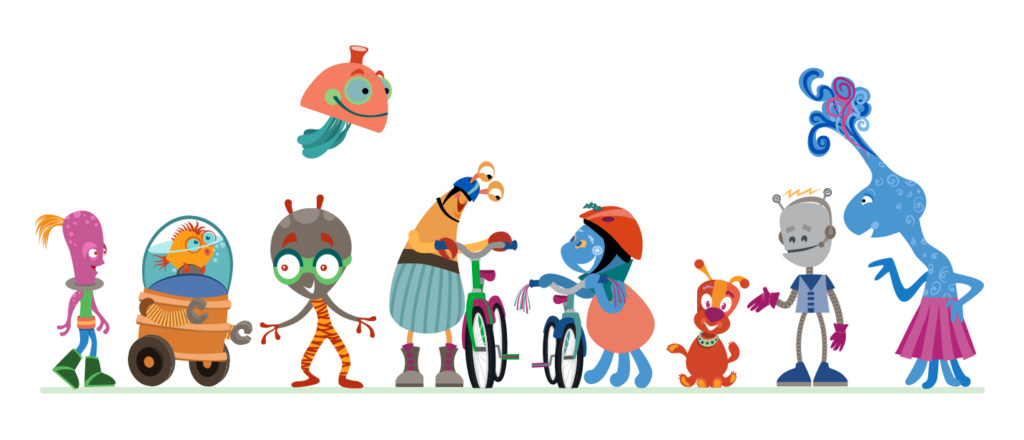 Free Financial Literacy Money Monsters Story Books
The Consumer Financial Protection Bureau (CFPB) is offering free Money Monsters books and promotional materials. "The Money Monsters stories introduce young people, grades K-5 to ideas, and activities to help build habits that they'll need as they grow up and start to manage their own money."
You can visit their site to see what the CFPB has to offer. The stories look as if they might just be pamphlets. They do offer one Chapter Book. For promotional materials they have Bookmarks, Sticker Sheets, and Posters. If you are interested the items are at no cost to the library, just fill out this order form. They estimate orders should arrive in approximately six weeks.
SER Jobs for Progress, Inc.
The SER Jobs for Progress, Inc. wished for me to relay information about their Senior Community Service Employment Program (SCSEP) to our libraries. The program "is funded through the U.S. Department of Labor and focuses on the needs of mature workers, the community, and employers."
This was explained to me, that if a library wishes to participate they would be assigned a worker with payroll provided by the U.S. Department of Labor. The library director would keep track of hours worked and then it will turned in to the program facilitator. This representative was just visiting with me by chance so their might be some variance to responsibilities of the library. You would need to contact the areas facilitator to get the complete explanation of how the program works.
If you are interest in this program the areas contact person is Brian Diedrich, 300 W. Douglas, Ste 850, Wichita KS 67202, Phone Number is 316-771-6770. The counties covered within this contact person's area are: Edwards, Ford, Finney, Grant, Haskell, Kearny, Meade, Morton, Ness, Seward, and Stevens.
---
Cataloging, Collection Development, and ILL
By Sara Wilson
---
Register for This Month's TrainUP! : Windows & Mirrors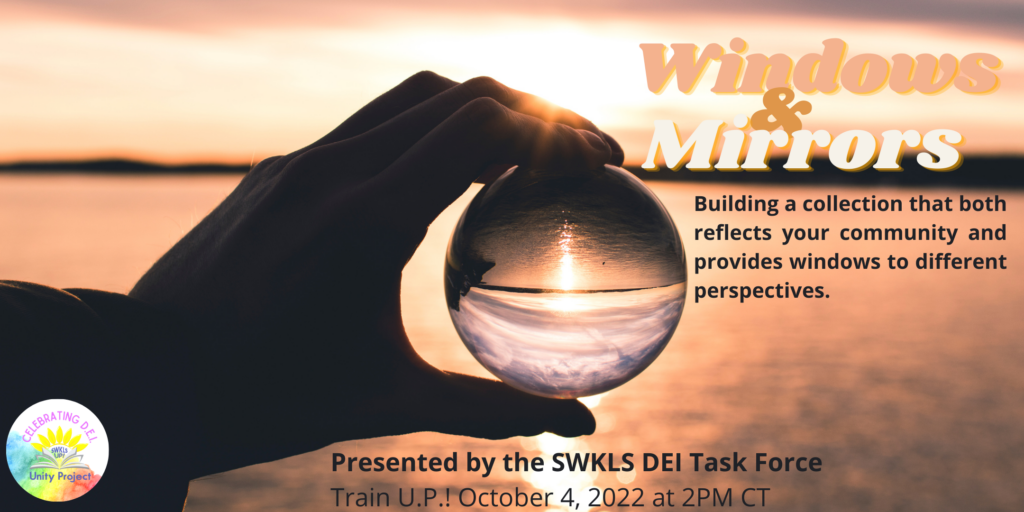 Grant Opportunity to Enhance Your Collection!
In case you missed it this week, State Library of Kansas Reference & Research Librarian Dakota Heard reminded us that the Kansas Notable Book Grant is still accepting applications! Get yours in today! See Dakota's message for details:

Hello everyone! This is your friendly reminder that the 2022 Kansas Notable Books Grant is still accepting applications on or before September 30, 2022. Applications can be found at https://kslib.info/1491/2022-Notable-Books under the "Grants and Purchasing" Tab. More information on the application process is available below. Please feel free to shoot me an email if you have any questions.
Kansas Notable Books Grant
The State Library of Kansas is committed to promoting literacy, lifelong learning, and access to library materials throughout the state. To that end, the State Library of Kansas, funded through an Institute of Museum and Library Services (IMLS) Library Services and Technology Act (LSTA) Grant, is announcing a non-competitive grant opportunity for libraries in Kansas to purchase books from the 2022 Kansas Notable Books list.
2022 KS Notable Book list- Each participating Kansas library will be reimbursed for the purchase of a single copy, in any format, of any or all books on the 2022 Kansas Notable Books list. Only the actual cost of the book, less any discounts, will be reimbursed with grant funds. Any shipping costs, sales tax and/or protective book covers are the responsibility of individual recipient libraries. Grant information for 2022, including the application and checklist, is available at https://kslib.info/1491/2022-Notable-Books. All Kansas Notable Book lists can be found at http://kslib.info/notablebooks.
Eligibility
To be eligible:
A public library, or an academic library (public or private)

Must be a participating KICNET and/or OCLC ILL library

A school library

Must have a full-time licensed school media specialist in the district
Must be a participating KICNET and/or OCLC ILL library
Library must agree to the terms listed within the Grant and Subgrant Eligibility Policy and Assurances documents available at- http://kslib.info/LSTA.
Terms and Conditions
The recipient library shall:
To begin, submit a successful application on or before September 30, 2022

(Step 1) Upon acknowledgement of a successful application, purchase books, and send invoices/receipts and required checklist on or before November 15, 2022
(Step 2) Sign and return the contract and assurances on or before November 30, 2022
(Step 3) Provide a brief evaluation via SurveyMonkey due on or before December 15, 2022

Promote Kansas Notable Books within your library and/or community through programs, displays, book clubs, or other similar means.
Further agrees to recognize IMLS in all promotions.
*Please see https://kslib.info/1491/2022-Notable-Books for grant application, checklist, and other information, under the "Grants and Purchasing" tab, in the middle of the page, right side.*
To start the process towards receiving the grant, return a signed copy of the application by library courier, email attachment (Dakota.Heard@ks.gov), or mail to State Library of Kansas, 300 SW 10th Avenue 312-N, ATTN: Dakota Heard, Topeka, KS 66612 on or before September 30, 2022.
---
---
Technology
By Jody Hattrup
---
Today is the last day to register for Tech Day+ 2022