---
System Spotlight
By Christopher Dressler
---
El dia de los Libros
The Kinsley library recently celebrated El dia de los ninos/El dia de los libros (The Day of the Child/The Day of the Book) a literacy holiday originating in Mexico to honor children and wonderful books. Traditionally the holiday falls on April 30th, but when there was no school on April 21, librarian Yaneth decided to hold the fiesta on April 21. Thirty-six children attended and heard a story, made maracas, danced the Mexican Hat Dance, played loteria (bingo), demolished a pinata and had treats. It was so successful, Yaneth wants to make this an annual reading event to highlight a different culture every year.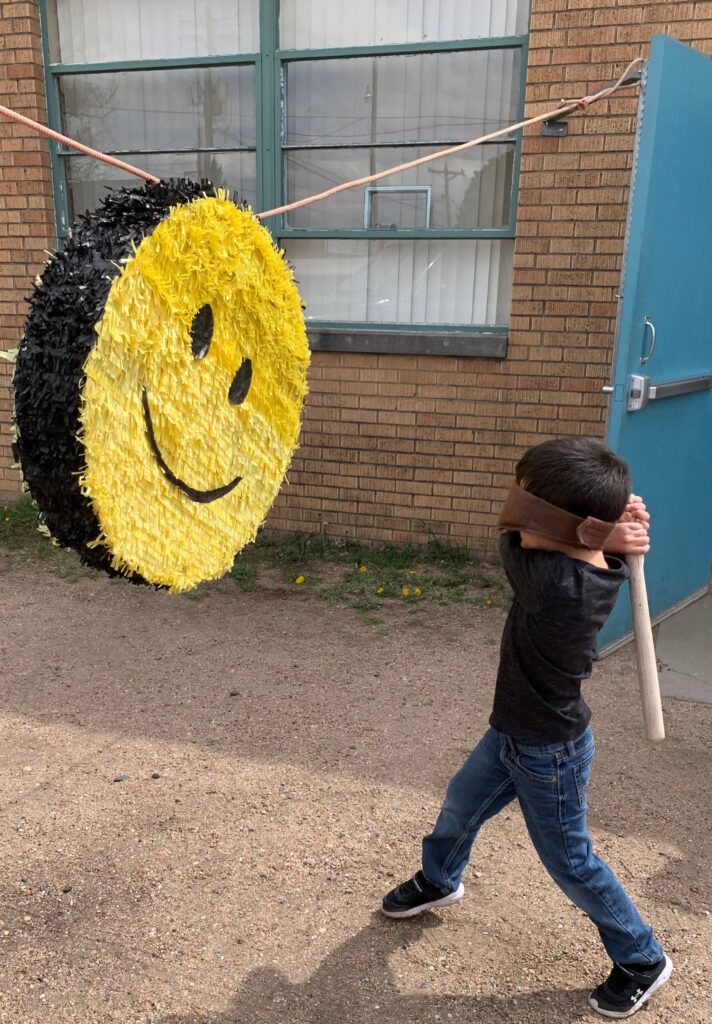 ---
---
Future Dates & Training Opportunities
May 5, 2023, 10:00 am – #TrendyLibrarian
May 15, 2023, 1:00 pm – Niche Academy "Disability Accommodations in Libraries"/Registration Link
June 16, 2023, 10:00 am – System Board Meeting (Online Only)
---
Consulting
By Richard Brookman
---
Image provided by pixabay.com contributor geralt
Legislative Update
HB 2236 "Education; relating to school districts; establishing parents' right to direct the education and upbringing of their children including the right to object to educational materials and activities that are not included in approved curriculum or standards or impair a parent's beliefs, values or principles" did pass both Houses and went to the Governor's desk.
Governor Kelly vetoed the bill. The State Legislature did attempt to override the Governor's veto, however the override failed to reach 2/3 vote in the State House of Representatives with a vote of 78 Yea to 45 Nay.
Image provided by pixabay.com contributor geralt
Film Programming Ideas for May
The System's movie licensing company Swank is sharing ideas that your library might consider doing in conjunction with a display or just the movie itself. For some of the day's in May that have an event associated you show:
for National Technology Day (May 11) it is suggestion to show Reminiscence;
for Mother's Day (May 14) the library could show Life as We Know It;
on May 16 it is Dinosaur Day and it is suggested to show Dinosaur 13;
for International Museum Day (May 18) you could do a showing of Night at the Museum;
Armed Forces Day, which is on May 20, the library could have a viewing of All Quiet on the Western Front; and/or
on May 29 it is Memorial Day and a showing of Hacksaw Ridge is suggested.
These titles are covered under the Movie License that is provided for each of our member libraries. If you choose to do a different movie don't forget to go to Swank's website for "public libraries" and search the title to make sure it is covered under the license.
Image provided by Collaborative Summer Library Program
Talking Books and the Summer Library Program
The Talking Books Department of the State Library of Kansas is offering their annual Summer Reading Program in conjunction with this year's theme. Maggie Witte, Outreach Librarian for Talking Books, is requesting you help in supporting this program and inform your qualifying patrons in your area. If the patron isn't part of the Talking Books program be sure to download and fill out the application, at this link, and return it to the Talking Books Department, in Emporia. As a librarian you have the authority to certify that the Kansan is eligible for services.
Image provide by freepix.com contributor freepix
Accommodations in Libraries Niche Academy Webinar
To continue with having libraries be a welcoming place for all Niche Academy is having a webinar entitled "Disability Accommodations in Libraries. The webinar will be held on May 17 at 1:00 pm CT.
The webinar presenter will be JJ Pionke and is a general introduction to the topic of disability accommodations. The discussion will cover "Americans with Disabilities Act, how the accommodations process works, as well as issues surrounding the process."
If you are interested in this webinar you can register through this link.
---
Cataloging, Collection Development, and ILL
By Sara Wilson
---
Collection Development Inspiration
---
---
In Literary News
---
Fourth Grader Pens Entrepreneurial Guide for Kids
Reimer Strauss, a nine-year-old from South Carolina, has written a book called "The Big Money Squeeze" that was published by Forbes Books and is now available on Amazon. Inspired by his desire, and that of his friends, to kit out his treehouse, the kids put their heads together and set out to make money. When it was all said and done, Reimer thought other kids could benefit from what he and his friends learned. For more information, you can read the article here.
---
Recent Book Challenge Issues Making the News
Libraries are feeling the impact of book challenges across the country. Here are some recent news reports involving book challenges and bans across the United States. (Special thanks to Sara Koehn, Director of Haskell Township Public Library and Sean Bird, Interim Dean of University Libraries at Washburn University for their contributions to this list!)
Librarian Says She's Being Called a Predator Over Books at School. She's Suing
York County Councilman Takes Aim at Children's Library Books with LGBTQ+ Content
Over Half of 2022's Most Challenged Books Have LGBTQ Themes
Book Bans are Getting Everyone's Attention – Including Biden's. Here's Why
Missouri GOP Proposes a Frighteningly Efficient Way to Ban Books
Banned Books Recommended for National Day of Action
ALA OIF Blog 04.28.23: https://www.oif.ala.org/intellectual-freedom-news-04-28-2023/
First Amendment Coalition: https://firstamendmentcoalition.org/news-opinion/first-amendment-news/
Empowered by Reading (Unitedagainstbookbans): https://uniteagainstbookbans.org/wp-content/uploads/2022/09/Empowered-by-Reading-final.pdf
---
SWKLS Resource Sharing Taskforce
We are starting an ILL roundtable group called the SWKLS Resource Sharing Taskforce. If you are involved in the day-to-day administering of ILL and you are interested in adding your thoughts, ideas, and opinions in a bi-monthly Zoom meeting, please reach out to Sara at swilson@swkls.org for more information!
---
In Case You Missed It
---
Versed in VERSO
From VERSO Product Manager Rae Schneider:
We will be hosting a special edition of Versed in VERSO on Tuesday, May 9, 2023, to show you all the updates to our new mobile site. Some of the updates will also impact the desktop site. These updates are expected to be released May 16. Please keep an eye out for upcoming release notes for the exact release date.
The current phase of the mobile redesign will impact patron-facing functionality: mobile header, mobile search box, mobile search "controls," mobile/desktop search filters. We are also implementing improved "holds" workflow so that your patrons can more easily place holds from a search result.
Mobile header and search box
Mobile search filters
Search "controls"
We should still have time for your questions, so please submit them with this form: https://forms.office.com/r/50khet8qPR
To register for the next Versed in VERSO, please do so here: https://attendee.gotowebinar.com/rt/1165596002130880779
---
For ILLers: KLE Updates
From Caroline Handwork:
There are a few KLE updates to be aware of:
1) Council Grove High School Library/KS314 – their last day on the courier is this Friday, 4/28/2023. If you have their shipping labels printed off, please dispose of them. If you have any of their ILLs to return, please use the Council Grove Public Library/KS316 shipping label.
There is no need to upload new lender lists in ShareIt. Nikki Hansen at the State Library has done a bulk removal from all lender lists in ShareIt.
2) Longton Library/KS702 has a new library location and new shipping labels. Please dispose of their old shipping labels and print off new ones here, https://kslibexpress.mykansaslibrary.org/shipping-labels/
Their new address is: 501 Kansas Avenue, Longton, KS 67352
3) For those libraries that use Trans-Amigos Express: 4/28/2023 is the last day for University of Texas – El Paso, Site # 22, Hub ELP. They are leaving the TAE courier.
Angelo State University in San Angelo, TX has joined their network. They are Site # 19, Hub ABI. You can find current TAE participants here, https://www.amigos.org/node/137.
---
Technology
by Christopher Dressler
---
The Library Card that Opened Doors
Our library card printing service provides libraries with the ability to print and produce library cards for their patrons. There are a variety of options for card designs and customizations, such as adding the library's logo, barcodes, and custom color scheme. The process of ordering library cards typically involves submitting a logo, submitting a design, evaluating a proof card, and specifying the quantity needed. The price per card is $0.53/ea for year 2023, 50 of those cards are free per year call or email us for details. They can also be used as punch cards, name badges, and even business cards. Our cards are PVC CR80 and are the same size as a credit card. Please give us a call and we can get the process started for your own customer cards.
As always, if you have specific needs for a video or an in-person training, please feel free to reach out via phone or email.